The Health Hub team is excited to announce the launch of a new specialised service that will benefit all of our community – Molemap Check by Dermatologists. This will help improve the early detection of melanoma and other skin cancers.
Full Body Skin Cancer Checks, up to 30 mins, $200
Thorough head-to-toe skin check
Point in time check
Looking for suspicious looking spots that present on the day
Diagnosed and reported by a dermatologist – via teledermatology
Suitable for people who
Haven't had a skin check in a while; and/or
Have a mole of concern or one that is changing; and/or
Have been badly sunburned in the past or used sunbeds; and/or
Want peace of mind that a melanoma detection specialist has thoroughly checked their skin and that their results will be diagnosed by a dermatologist.
What to expect
At your appointment you will be seen by our melanographer who has expertise in detecting and imaging any suspicious looking spots and whose training is accredited by the Australasian College of Dermatologists.
After your appointment the melanographer will securely forward your imaged spots to our dermatologists who work via teledermatology. Our dermatologists are expert at diagnosing early stage melanoma – when it's most treatable. The dermatologist will securely forward your report to your GP who will discuss the results and any treatment recommendations with you.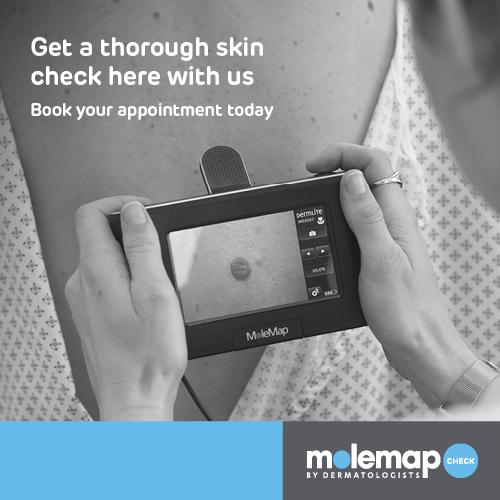 or call our friendly team on 9785 6000
or download our AMS Connect App and book a Molemap Check under 'Skin Checks'